Download Audiobooks and eBooks
---

As a patron of the Sioux Lookout Public Library, you are able to access collections that are shared across the Province. This includes e-books, Kids Collections, Teens Collections, New Releases and Magazines! 
You can search through the Libby App Or click here  to view the OLS Download Centre (OverDrive collection) to browse collections available to you, all you'll need is your library card. 
Follow these steps: 
1) Click here to access the collection. 
2) On the top right corner you will see a "SIGN IN" option. (or click here to go to the Sign In page). 
3) In the yellow task bar, select the drop down button to "Select your library". You'll find Sioux Lookout Public Library on this list. 
4) Enter your library card number. 
5) Enjoy all the reads!
---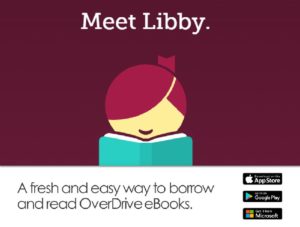 You have access to thousands of audiobooks, eBooks, and videos through the Libby app. Up to 10 titles can be added to your online account at one time, titles do not have to be returned (no late fees!), and you can place holds or suggest titles for the library to purchase. 
Follow these steps to get started (contact us if you need assistance):
1. Download the Libby app or the OverDrive app (for older devices) to your computer, eReader, phone, or tablet. Search for 'Libby' or 'OverDrive' in the Apple App Store or the Google Play Store. . 
2. Create an account using your Sioux Lookout Public Library card number and a valid email address.  
3. Add 'Sioux Lookout Public Library' as your library. 
4. Search for audiobooks, eBooks, and videos through the Ontario Library Service Download Centre. 
5. Download audiobooks, eBooks, and videos to your device to enjoy when you are offline. 
Visit the library or contact us for any help with downloading.
Watch a Tutorial on How-To Download Audiobooks and eBooks
Learn a New Language
---

The next evolution in language learning. 
Step 1 - Set up a free Mango Languages account
Step 2 - Download the Mango app from the App Store or Google Play. You can also use this service on a computer. 
Step 3 - Activate the app with your 14-digit library card number (2 3660 0000 85437) 
---